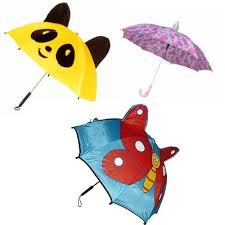 Umbrella- the best option to avoid the sun and rain! Today, umbrellas have revolutionized in designs to make the stylish tool to go comfortably under rain or sun. A variety of designs and shapes are available, especially for the kids' umbrellas.
Types of Umbrellas: There are mainly two genres of umbrellas depending upon their style and design patterns – regular umbrella and bubble umbrella. But the question is which is better for your kid? Which version to buy?
Remember, whenever you are into purchasing an umbrella, you need to consider its style, shape, and features, along with the general weather conditions like the hot summer and the rain and stormy winds. The other features come last.
Regular umbrella or bubble umbrella?
Whatever be your preferences for buying umbrellas, do not forget to consider the facts that it should offer your kid the best protection as well as durable too for withstanding bad weather conditions.
Regular umbrella: In previous times, regular umbrellas were the only type bought by the users. Regular umbrellas can be compact or non-compact in nature.
The compact regular umbrellas are classic designed, durable, and often cumbersome. On the contrary, non-compact regular umbrellas are small in size and easy to carry in the handbags. Comparatively, non-compact ones are less durable than the compact ones.
Bubble umbrella: It is the first choice of any manufacturer of kids' umbrellas. These are the current generation's fun type umbrellas and kids generally like its style and design patterns. But it is more than just being non-conventional genre, it offers many advantages too which you cannot find in the traditional regular umbrellas. What are those?
• The design pattern looks like a tomb or small home and safeguards from the sun and rain. It can cover your kid more from different angles than a regular umbrella.
• It is able to protect your child from strong wind. The bubble-like look-out does not get inverted with the wind rather it smoothly passes the wind.
• Generally, it includes a transparent canopy so that your kid can see properly through it. So, your kid can get better protection from wind, rain, and the sun and the best part is he/ she will not fell down walking with it as they will be able to see everything in front or above of them.
• The design of such umbrellas best complement the chick look for your baby girl or the cool style of your baby boy. You can get a wide of range of design options for bubble umbrellas for your kids to match their fashion sense or to add an extra vigor to their outfits.
Popular design patterns for kids' umbrellas: You must have bought a pair of rain boots and a piece of designer raincoat for your kid, but you should add one more thing to their defense which is an umbrella. You are going to buy some for your children, so you should pick fun designs which can make them proud and confident to carry with. And, they will definitely care about the product they love.
Generally, most of the kids umbrellas manufactures offer cartoon pictures, animal designs such as frogs, sharks, cars, ducks, etc. on the canopies which match the interests of kids.