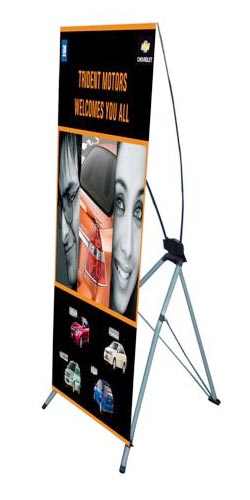 Roll up Standees are large sized self-standing display boards which promote a particular movie, product or some event. These standees are usually made using foam board. This product ranges from being a large-sized self-standing poster to an elaborated three-dimensional device for displaying. In some cases, moving parts and lights are also attached to these standees to make the standees look more engrossing and eye catchy.
The standees are used widely these days for promotional events at theatres, event houses, and even movie halls. It is an attractive and affordable means portraying the message of the event. It is a smart way to put in an impact on the mind of the audiences.
These standees contain all the necessary details about the event and deliver the base message to the viewers. It can be said that these stands add up stability in an easy manner. This graphic panel is easy to carry as it rolls into a base so that it can be packed in a flat package or a nylon carrying case.
Advantages Of Using These Roll Up Standees: There a number of advantages served by these standees which have resulted in the growing popularity of roll-up standees. Some of the most remarkable features of these standees include:
• It is very durable and strong.
• The standees have got a very sturdy construction making it usable for both indoors and outdoors.
• It owns an elegant design making it quite eye catchy and attractive for the audiences.
• It is quite easy to use these banners.
• The weight of these banners is quite light making it easy to carry from one place to another.
There are a number of rollup standees manufacturers in the market selling best quality banner stand at an affordable price. The use of the standees has become quite popular as they are quite affordable, light in weight, very easy to install, convenient and above all worth the value in terms of usefulness and quality.
The banner stand consists of a snap rail aluminium pole which helps the stand to stay upright and it also helps in reducing the number of wrinkles on the banner providing a beautiful and a well-arranged look. It is quite simple to set up these banner stands as requires very little effort and time to get the entire set done. You can install this Roll-Up Standee in all sorts of exhibition and trade shows. It is convenient to carry and can be installed and displayed easily. Moreover, these stands are quite portable, making it easy to move these stands from one place to the other without much hassle.
These standees are made up of good quality material ensuring a durable and efficient life. These standees considered as a great way to display advertisement with a proper message or logo. It is a cost-effective alternative which can be perfectly used for events where you need to show crucial details. It requires no separate tools for setting up and it stays steady and do not fall easily.