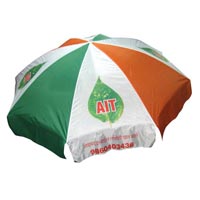 Advertising umbrellas are the modern and novel advertising carrier and are used for the outdoor promotion of products and services for a company's brand. These umbrellas have now become an indispensable form of advertising and can be printed with Brand Name, Punch line, Brand Logo, Company Logo, etc. They are easy to carry, fold and a great way to display the advertisement of the company brand in public places, exhibitions display, and sporting events.
The pattern designs of the advertising umbrellas are not limited and can be swiftly selected. These umbrellas are elegant in appearance and are durable in nature. People can get these umbrellas from the advertising umbrella manufacturers at reasonable prices. Now many companies are using these umbrellas as a marketing product. They are relatively cost-effective, easily branded and a practical item that continues to be utilized throughout the rainy season. Let's have some of the major benefits of using advertising umbrellas-
• Have Large Print Area: Whether it is a mini or large umbrella, there is enough space to add a company's logo, name or marketing message. The pattern or design options are wide-ranging with the choice to use a single panel for printing a logo or create the vivid artwork that takes up the full top surface. However, there is often a limit line with the design process. Many times, companies want to avoid being too flashy or overusing vibrant colors because this would put a lot of people off using the umbrella. A simple design is often great to bring in the most regular users. In addition, there is also the option to print a logo on the handle or protective case for the more distinct branding.
• Suitable For Great ROI: Umbrellas are a great option as a marketing product because they have a practical use and are seen regularly used in different regions that typically gets a lot of rain. This repeated use leads to the more display of a branded message and potentially noticed by hundreds and thousands of passing people in its lifetime. There are several types of umbrellas to match everyone's budget. A limited budget is enough to get started with the mini handheld advertising umbrella while a larger budget is needed for the fixed advertising umbrella or more expensive golf umbrella.
• Offer A Huge Exposure: Over-sized or large umbrellas are a practical gift idea for sporting events and corporate events because they have huge audiences and this helps in promoting the company's brand. Also, the umbrella made for everyday use can be seen by hundreds of people who are commuting to work or even walking through a busy town center.
• Appreciated For Long-Lasting:The advertising umbrellas are the high-quality umbrellas that are made to last in stormy or any other weather conditions. These umbrellas come with fiberglass ribs that let the canopy revert back to their original position without breaking. The reliable and sturdy build of the advertising umbrella gives a positive and lasting impression of a company. It is usually worth investing some extra amount in the decent quality umbrellas for advertising or marketing purposes because they will be robust enough to stand the test of time and will last for years.