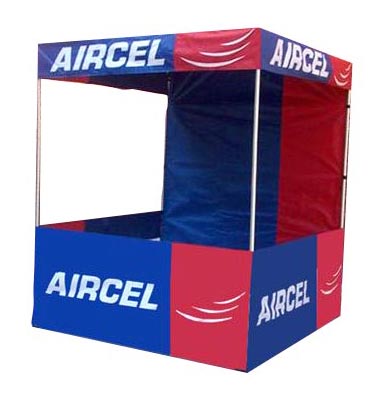 Advertising canopies are a great way to showcase a business to the outside world. These canopies can be set up at fairs, trade shows, and even along the roadside to generate interest and convert this interest into useful traffic. Accordingly, here are some of the great benefits you get to enjoy by purchasing one of these pop-up tents from a renowned advertising canopies manufacturer.
You can make clients come to you: Advertising canopies act as pop up, aka portable, tents, which you can set up literally anywhere. They are generally used to generate brand awareness of a business while promoting the latter's services and products to the public. The thing with these canopies is that they have a tendency to attract customers. There is no need for you to promote your products and services by shouting for long hours into a microphone or running around the customers and insisting they check out your products and services. Set up a pop-up advertising canopy, choose an eye-catching graphic to decorate it, attach your business logo on the canopy's roof, and wait for the customers.
You can install, relocate, and dismantle these canopies easily: One of the main benefits of advertising canopies is that they are easy to handle. The canopies consist of strong and flexible poles, which can be easily pitched in almost any location. The strong poles ensure the canopy remains intact even in strong winds and rain. The canopies are lightweight, which makes it easy for you to carry them wherever you want to promote your business. This factor allows easy cleaning as well. The best way to clean an advertising canopy is with water and mild soap. You can also clean dried mud and other stains with cleaners containing ammonia or diluted chlorine bleaches.
You can get them in a variety of sizes and styles: Advertising canopies come in all sizes to match every kind of business requirement. Don't want to invest much in one or don't have the space to set up a big canopy? Choose a small canopy to promote your business. Want to promote your business on a grand scale? Choose a large canopy that is available in a style that complements your business. The majority of advertising canopies are also customizable, meaning you can design and decorate them any way you want to promote your business.
You need them to protect your exhibits: Another benefit of advertising canopies is that they are waterproof and can protect you from unforeseen emergencies such as sudden rain showers. These canopies are usually made of water-resistant materials such as polyester, marine vinyl, or tarpaulin and can protect you from rain, fire, and the UV rays of the sun as well.
An advertising canopy is a great way to promote your business to the target audience at a place where you can catch the attention of potential customers. The myriad benefits offered by these canopies ensure that you are in good hands, as you concentrate on building your brand name in front of your customers without worrying about rain, wind, sun or other harsh weather elements that may decide to play spoilsport.